We are a collaborative network of educators, families, and community partners working to cultivate equitable, culturally thriving, socio-ecological systems learning and ethical decision-making using field-based science education in outdoor places, including gardens, for children in pre-kindergarten to 5th grade (and beyond) and their families.
We are more aware than ever of the need to build learning environments that strive for just, sustainable, and culturally thriving communities. Learning in Places is more than a curriculum–it is a model of pedagogy that centers racial equity, ethical, evidence-based decision-making, and just relations with the natural world. We offer materials for professional development, classroom learning, outdoor learning, and family engagement. If you are a teacher, family member, teacher educator, and/or researcher, you may find something that will deepen your practice, reflection, and learning.
---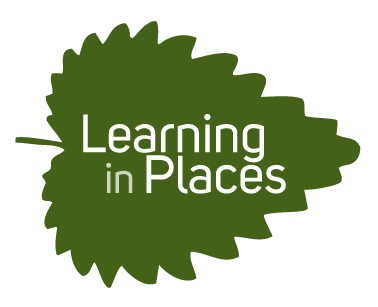 Our materials are free to use!
We only ask that you properly cite all materials using the suggested citations at the end of each document that you download.
Or, if you find any of the graphics or sections of the website useful for your work, please cite them using the following format: Learning in Places Collaborative (2021). [Title of page that you got the graphic or information from]. Learning in Places website. [url of the page]
---
This NSF DRK-12 program for a 5-year design and development project aims to design, implement and study teachers' learning to engage students in PK-5 in field based models of science education utilizing the Learning in Places (LiP) seasonal storyline model. This project grows from our previous LiP work and is titled "Learning in Places: PK-5+ Field Based Science Education Across Schools, Families, and Communities". This project is primarily focused on the life sciences and earth & space science domains reflected in the Next Generation Science Standards; however it also substantively incorporates aspects of social studies and civics, as well as literacy. The LiP model was co-designed with families, educators and community based organizations with a focus on pk-3 students to prepare students to meet, adapt to, and lead change in relation to the socio-ecological challenges of the 21st century. This project was awarded $1,034,246 and began July 1, 2022. 
---
The University of Washington Bothell Goodlad Institute for Educational Renewal, Northwestern University, Tilth Alliance and Seattle Public Schools have partnered for this project. Funded by a 2.9 million dollar grant from the National Science Foundation, the project builds outdoor learning spaces and draws upon local communities and green spaces at several Seattle schools while developing a robust model of equitable field-based learning for preK-3 educators to engage students and their families in complex socio-ecological reasoning and decision-making. This project entered a second no-cost extension year and will wrap up in June 2023.
Family Learning Engagements
Get in Touch
Northwestern University
School of Education and Social Policy
2120 Campus Drive
Evanston, IL 60208-0890
Give us a ring
847.491.4329